The Alien Attractor is a device for the Virtual Tank and one of four upgrades players may purchase from The Fish Emporium. It costs 50,000 shells but can only be purchased after the Bubbulator for a cumulative cost of 70,000 shells.
Uses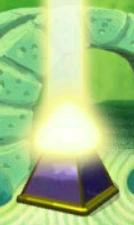 The Alien Attractor periodically fires a beam of light upward, creating a portal that an alien will come out of. The aliens summoned by the attractor will be unable to eat or otherwise kill store-bought fish and can be killed for a blue conch shell, the equivalent of a diamond in other game modes. The weapon given to the player in the Virtual Tank appears to be a level 6 laser which delivers roughly the same amount of damage to aliens as Rufus. The alien will eventually leave the tank on it's own if left alone for about a minute.
Although store-bought fish are safe, fish spawned using the Feed button or birthed by Prego or breeders can still be eaten. This may hinder how frequently carnivorous fish are able to eat in screensaver mode, consequently reducing the amount of shells they will drop in a given amount of time.
Players may disable and hide the Alien Attractor from the Tank menu any time.
Community content is available under
CC-BY-SA
unless otherwise noted.