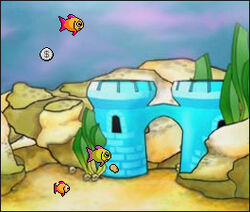 Insaniquarium is the original game that would eventually spawn Insaniquarium Deluxe. As with the deluxe version, the goal of the game is to feed fish and protect them from harmful aliens with the aid of helpful companion pets that are unlocked by completing each level. This and the Java versions of other older PopCap games are no longer available on PopCap's website.
Out of the 24 pets available in the deluxe version, only 10 are available in the original: Prego, Vert, Stinky, Wadsworth, Niko, Itchy, Clyde, Meryl, Zorf, and Rufus.
Levels
Tank 1
Tank 1 features a simple aquarium design with rocks and plants and a very prominent turquoise castle. Players only had access to guppies and carnivores and were able to unlock Stinky from the first level. Sylvester and Balrog are the first aliens encountered in this tank.
Tank 2
Tank 2 is very pink in contrast to the first tank an featured mostly corals and a couple of varied sea shells. Here, the player is able to keep starcatchers and use star potions potions to convert guppies into star guppies that would feed the starcatchers. Gus and Destructor are the aliens that are introduced in this tank.
After tank 2, the game ends and would prompt the player to sample and purchase the deluxe version.
Differences
Despite only being a smaller scale model for the deluxe version, Insaniquarium features some significant changes that did not translate into the deluxe version.
This game does not have background music.
King guppies do not wear crowns.
Starcatchers are noteworthy for having a significantly more crustacean appearance with long, crab-like legs.
Pets, besides Stinky, are unlocked at random.
Destructor has the same roar as Sylvester and Balrog.
Time Trial has additional points for overall fish count, as well as subtraction of points for fish killed.
Community content is available under
CC-BY-SA
unless otherwise noted.