Money is the main item of Insaniquarium, and takes the form of dollars ($). It is needed for many things, e.g. buying Guppies, getting egg pieces, upgrading the Laser Gun, e.t.c.
Money Values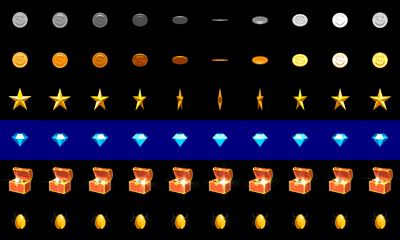 Snot
: $1
Silver Coin: $15
Gold Coin: $35
Star: $40
Beetle: $150
Bomb: $150
Diamond: $200
Niko's Pearl: $250
Pearl: $500
Treasure Chest: $2000
Shells
See Full Article: Shells
In Virtual Tank Mode and the bonus levels in Adventure Mode, shells are a different form of currency used for buying fish for the Virtual Tank, among other things.
Grey Shell/
Snot
: 1 Shell

Gold Shell: 2 Shells
Star: 3 Shells
Blue Conch: 5 Shells
Bomb: 5 Shells
Beetle: 7 Shells
Niko's Pearl/Silver Spiral Shell: 10 Shells
Bag O' Shells: 20 Shells