Money is the main item of Insaniquarium, and is needed for many things. From buying guppies to getting egg pieces, money is the source of, well, almost everything!
Money Values
Nose Dropping:1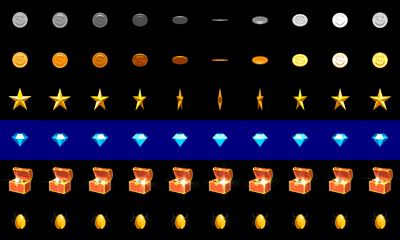 Silver Coin:15
Gold Coin:35
Star:40
Beetle:150
Bomb:150
Diamond:200
Niko's Pearl:250
Pearl:500
Treasure Chest:2000
Shells
In Virtual Tank mode and the bonus levels in Adventure, shells are a different form of currency used for buying fish for the Virtual Tank, and many other things!
Grey Shell.snot: 1

Gold Shell: 2
Star: 3
Blue Conch: 5
Bomb: 5
Beetle: 7
Niko's Pearl/Silver Spiral Shell: 10
Bag o Shells: 20
the reccommended way to use shells is buy bubbulator,alien actarractor,5 backdrop,4 pets/game,Rare Fishes,7 pet/virtual tank and all four bonus pet.
Amount
25=Normal Guppy;100=Normal Carnivore;500=Colored Guppy;2,500=Guppycruncher,Starcatcher;3,500=Beetlemuncher;5,000=Breeder;10,000=Ultravore;15,000=Sylvester;1 Backdrop;20,000=Brinkley,Bubbulator;25,000=Nostradamus;30,000=Stanley;35,000=Walter;40,000=4 Pets/level;45,000=7 Pets In Virtual Tank;50,000=Alien Actarractor
Community content is available under
CC-BY-SA
unless otherwise noted.