Wadsworth is a blue whale. He protects your small and medium guppies from aliens by hiding them inside his mouth.
Involvement
Wadsworth can protect your small and medium guppies by letting them inside his mouth. This is only useful if you don't want any of your guppies in the early parts of the game get eaten/killed. Otherwise, he's not much of a help around the tank.
Story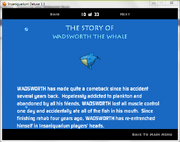 Wadsworth has made quite a comeback since his accident several years back. Hopelessly addicted to plankton and abandoned by all his friends, Wadsworth lost all muscle control one day and accidentally ate all of the fish in his mouth. Since finishing rehab four years ago, Wadsworth has re-entrenched himself in Insaniquarium players' hearts.
Trivia
When Rhubarb snaps his claws while the guppies are inside Wadsworth, they will "jump" and be seen outside, then come back inside Wadsworth's mouth.
There are times where Wadsworth falls asleep when the aliens attack, letting all the fish out and causing them to be eaten. Usually, it happens after all the larger guppies are eaten.

It also happens in Challenge Mode if the aliens eat/kill all fishes (regardless of type) that are not protected by Wadsworth. The frequency of this is always, so that those levels are become more challenging/difficult, hence the name of the mode.

Despite being a blue whale, the largest living creature, he is only slightly larger than a medium guppy.
Gallery